About Carole
Author Bio
I was born and grew up in near-perfect San Diego, California. My mom taught me about Jesus before I could talk. I am incredibly thankful for the legacy left to me by her and her mother, a history of faith born of adversity. Compared to them, my life has been a cakewalk. She moved just a few miles down the road a few years ago to be closer to the grandkids (although she limits her visits to four hours or less due to the noise).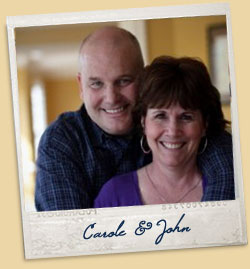 I've been married for over thirty years to an incredible man, John. We met in Oklahoma at Oral Roberts University where I majored in English Education. I taught English for several years before staying home full-time to begin our family. We have a plaque in our kitchen that says, "Our house is the perfect mixture of chaos and love." With three teenagers in the house, I think it tends more to the chaotic, but it is a lot of fun. At least when no one is threatening to kill anyone else.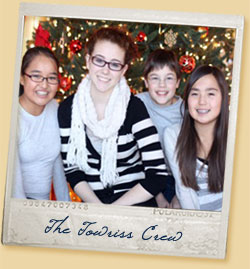 Our eldest daughter just completed her BFA in photography. Emma was our Christmas gift almost twenty-three years ago and is quite obviously our biological daughter—people say she looks like me and acts like my husband. She will be starting on a MS in clinical psychology in the new year.
Our younger three are adopted from Kazakhstan.
Mira is seveneen and our spontaneous, sporty, energetic one. She's a fantastic softball player and spends her time generally being a typical high-school senior.
Dara and Johnny are both fifteen, and are four weeks apart. Dara's (almost always) adorable diva attitude and Johnny's never-ending entrepeneurial adventures keep our house noisy and fun. Though our third daughter is Central Asian and our son is Russian, and she is a head taller than he is, people still ask if they're twins. I don't get it.
We now make our home outside Washington, DC. It's a perfect place for our multicultural family. Our church has members from twenty-six countries, and the school system has students from over fifty. When I stand in the sanctuary and hear the myriad accents praising Jesus, it truly is a taste of heaven here on earth.
I'd be delighted to share my experiences with your group. I love sharing about God and His work in my life. I can speak about
Infertility and adoption/International adoption
Adoption/orphan care advocacy, including ways to help when you don't adopt
Writing
the relevance of the Old Testament
the symbolism of Jesus in the Tabernacle
God's Sovereignty
God as our refuge
God as our dwelling place
God as our first love
or together we can come up with a topic that fits your needs.
Author Photo

Find Carole Online