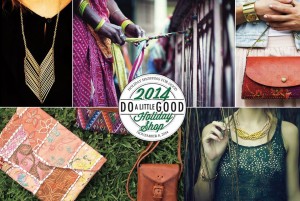 We can't solve all of the world's problems, but we can do something. And doing something–even just a tiny something– will always be better than doing nothing.
If you live in the metro DC area, take some time on Saturday morning (November 8) and show up at the "Do a Little Good – Holiday Shop."
It will be held at First Alliance Church, 14500 New Hampshire Ave, Silver Spring, MD, starting at 9:00 a.m. All proceeds will go toward freeing people from bonded labor and helping them sustain a better life.
If you don't live nearby, try shopping online this season. Some of the vendors that will be at The Holiday Shoppe are:
By purchasing from one of these vendors, you are helping to rescue a woman (or family) from slavery or sex trafficking, provide a job for a survivor of trafficking, or receive an honest wage. You help give people the opportunity to pull themselves out of poverty, with dignity. You support sustainability.
Christmas nowadays  is, for better or worse, a time for shopping. Use that shopping to do a little good.