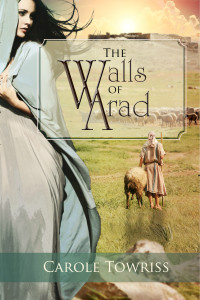 Everyone knows the story of Joshua and the city of Jericho.
Joshua fought the battle of Jericho … and the walls came tumbling down.
But before Jericho, there was Arad.
When the Canaanite king of Arad, who lived in the Negev, heard that Israel was coming along the road to Atharim, he attacked the Israelites and captured some of them.  ~Numbers 21
The long-awaited third book in my trilogy is coming out next month—June 15. The Walls of Arad takes place almost forty years after the first two, as the years of wandering are drawing to an end.
Arisha is a young Canaanite woman who has fled the city for her safety. Miriam has taken her under her wing, but as she is close to death, she wants to be assured this abused and abandoned young woman will have a good life, and she entreats Zadok to marry her.
Zadok is the grandson of Bezalel, architect of the Tabernacle, and great-grandson of Hur, advisor to Moses. Selected by Aaron to shepherd the Tabernacle flock, he has a gentle spirit Miriam believes can help heal Abigail's heart.
The Canaanite king of Arad has heard about the mighty deeds of Israel's God, and fears he will be destroyed as Egypt was. When Arad goes on the offensive, Zadok will have to make a choice. This time a shepherd's heart cannot save Arisha.
This time, she needs a warrior.
I'll be sharing more about the the book, the time period, and the characters in the weeks to come. I'm looking for people to help me out. I want to form two teams – a review team and a street team. You can be on either or both teams. The review team will be sent an e-copy of the book now, to read and have a review ready to post on Amazon as soon as it releases. I'm not allowed to give you anything in return for that except an early copy :)
I'll also have a street team to help promote the book. You'll get a free paperback copy of the book, some goodies which I can't tell you about without spoiling it, and a novella made from deleted scenes available only to my supporters. In return I'd love for you to post on your FB, twitter, pinterest, tell your friends, pray or however else you can support me. You'll be the first to receive news of my new releases (there are three more in the next year).
Leave a comment, or click on the sign-up button on my Facebook page to let me know you want in!