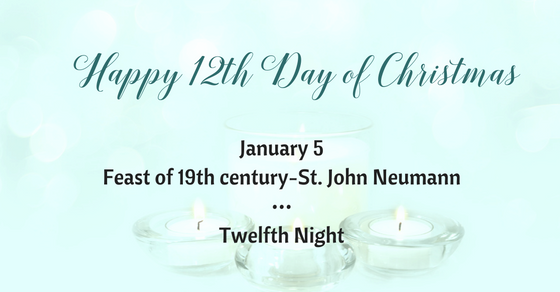 The Twelfth Day of Christmas, January 5th, is the Feast of 19th century-St. John Neumann, the first Bishop in America. Since the next day is Epiphany, this night is also known as Twelfth Night.
People held large parties on Twelfth Night, during which the roles in society were often reversed, with the servants being served by the rich people. A rich cake made with eggs and butter, fruit, nuts and spices was eaten. A dried pea or bean was baked inside, and whoever found it was the Lord (or Lady) of Misrule for the night. Shakespeare's play of the same name takes place on this night of revelry, leading to gender-confused disorder.
In many countries, it's traditional to put the figures of the Wise Men/Three Kings into the Nativity Scene on Twelfth Night to prepare to celebrate Epiphany the next day.