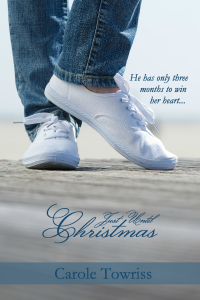 I must now declare myself a Nano "loser." They call it "winning" when you write 50,000 words, though you actually get only bragging rights and a "Purple Bar of Glory" for your website.
I did not write 50,ooo words in November. I only wrote a little under 31,500.
But I'm OK with that. It was taking too big a toll on my family. When my middle daughter rather forcefully said, "All you do is write!" that's when I put down my laptop.
Not only did I start PT for a shoulder injury, which claimed an appointment of two hours twice a week, plus daily exercises, I also had too many other things going on in my writing world. I wanted to get my Christmas novella, Just Until Christmas, finished, so I wrote over 5,000 words for that. (So technically I wrote almost 36K, but not all of them were on the new novel, so they didn't count.)
I wrote most of Just Until the summer before last when a publisher was looking for novellas for a Christmas anthology. It had to be set in a small town, and it had to be about Christmas. It was fun writing something where I didn't have to research nearly every single paragraph! But they closed their fiction division before they collected them, so it sat on a shelf.
When I recently decided to release Book 3 of the "Journey to Canaan" series in February, I wanted something to promote it and get myself back in the game since it's been two years since Book 2 came out. I thought a Christmas novella might be just the thing. So I added the last 5K words, got it formatted — and it releases TODAY. It will be .99, which is the lowest price I can make it right now, and the first chapter of The Walls of Arad is in the back.
So during Nano month I was also getting a cover designed for Walls, and getting it ready to send to an editor—rereading and self-editing (again) the entire 82,000 words. I'll tell you lots more about Book 3 and its release in the weeks to come.
I lost Nano, but it turned out all right. I got a lot accomplished, and I learned a great deal. I did have my novel plotted far more than usual, and I liked that very much. And though it should be self-evident, next year I'll know I can't have anything else writing-wise to do besides work on that one novel.
So maybe I didn't lose so much after all.
 ~~~~~
HOPE ARISTOV returns to live in her former home for three months—just enough time to finish out a residency requirement so she can sell the house and not pay capital gains taxes. Then she's going straight back to Bethesda, Maryland.
IAN MacKAY owns the only grocery store in the one-square-mile beach town. When Hope blows into his store, he likes her looks, but not her attitude. As he gets to know her, he begins to like her, far too much when he finds out she's only staying until Christmas.
As they spend more time together, he fights to keep his feelings in check, especially when he learns of a job opening that would suit her perfectly. When her tells her about it, she accuses him of trying to manipulate and use her—like everyone else she's known. Can Hope take a risk, and open her heart to what God has in store for her? Can Ian do what's best for Hope, and let God take control, even if it means giving her up?